Celebrating More Than 75 Years of Excellence in Education
On November 14, 1946, Rush and Henrietta residents voted overwhelmingly to combine their small schools into a single district - the Rush-Henrietta Central School District - to provide children with more efficient and cost-effective educational opportunities. The vote was opposite of one held eight years earlier; in September 1938, voters rejected centralization by a 653-421 margin.

The Rush-Henrietta school district opened on July 1, 1947. George Yackel and John Parker, two well-known figures in education were appointed to lead the district. Students from many schools in Rush and Henrietta soon were brought together as one.

Newspaper accounts explain the unforeseen challenges that soon tested district leaders and community residents. After centralization, people began moving to the suburbs at an unprecedented rate. John Parker, one of Rush-Henrietta's first administrators, likened the population explosion to a brush fire. "We had no way of knowing how much more school facilities we needed when we centralized in the late forties," Parker was quoted as saying.

After centralization, the Board of Education – consisting of two members from Rush and three from Henrietta – advocated for the creation of a new school for all students. In 1949, voters approved by a wide margin the purchase of 65 acres owned by Clark Stone on East Henrietta Road at a maximum cost of $15,000.

The next step to ushering in a new era in local education was preparing for voter approval a proposition regarding the construction of a new school on this site. According to the September 6, 1949, Rochester Times-Union, "Present buildings are so inadequate that students are scattered through a succession of buildings, which include the Rush Town Hall, the Union Congregational Church in Henrietta, and a cinder block garage. The high school building itself in East Henrietta is a 123-year-old structure that once housed the old Monroe Academy."

On September 19, 1949, Rush-Henrietta voters approved the proposition to construct the Rush-Henrietta Central School (now known as Roth Junior High School), which was designed to accommodate 1,000 students and serve all grade levels. The margin of support – 728-162 – was overwhelming and helped launch Rush-Henrietta on a course for 60 years of educational excellence.

A groundbreaking ceremony was held to commemorate this important occasion. In November 1951, 500 elementary-age students began attending the school, and in February 1952, high school students followed. That month, James W. Gray, president of Rochester Savings Bank, wrote a letter to Principal George Yackel. He said, "Our heartiest congratulations to you and your associates upon the opening of your magnificent new school building. We are aware of the long time your pupils were housed in school buildings in scattered areas throughout your districts. We are also aware of the immense amount of effort and time you have put into your building program. We rejoice with you in your accomplishments."

In May 1952, a week-long celebration - including a dedication and tours of the new building - took place to celebrate the school's opening. At the time, it was considered one of the nation's most modern schools, and attracted interested observers from as far away as Japan.

In demonstrating foresight and concern for the future, Rush and Henrietta residents realized in the 1940s that centralizing their school districts would provide enhanced opportunities for academic achievement and lifelong success. In keeping with that philosophy, today's families in Rush-Henrietta are to be commended for their unwavering commitment to student learning. So, too, are the district's staff members, both past and present, who dedicate their professional pursuits to fostering student learning.

The Rush-Henrietta Central School District thanks you for your continued support, and looks forward to many more decades of excellence in education. Together, we are guiding student success … one child at a time.

For more information on the district's history, visit the 75th Anniversary pages.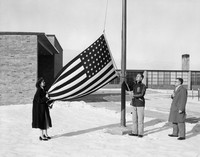 Related Links
From news anchors to newspaper reporters, from scientists to surgeons, the Rush-Henrietta Central School District has helped shape the futures of many productive graduates.