Social-Emotional Learning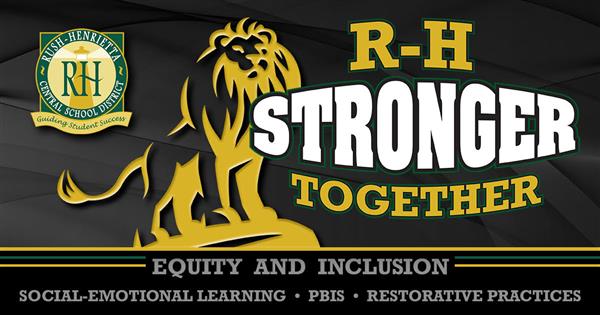 Rush-Henrietta has a strong focus on social-emotional learning, as identified in our mental wellness district priority:

Given growing societal concerns regarding student and staff mental wellness and the impact of mental wellness on daily functioning, we will continue to build upon our comprehensive mental wellness program to ensure consistent implementation, access to services, and program refinement. We must ensure that we are expanding our mental health supports and services to address existing and emerging needs of students and staff in the areas of mental wellness and social-emotional well-being.

We continue to engage in work that promotes the alignment of SEL and equity, as emphasized in the SEL definition provided by the Collaborative for Academic, Social, and Emotional Learning (CASEL).

"Social and emotional learning is an integral part of education and human development. SEL is the process through which all young people and adults acquire and apply the knowledge, skills, and attitudes to develop healthy identities, manage emotions and achieve personal and collective goals, feel and show empathy for others, establish and maintain supportive relationships, and make responsible and caring decisions.

SEL advances educational equity and excellence through authentic school-family-community partnerships to establish learning environments and experiences that feature trusting and collaborative relationships, rigorous and meaningful curriculum and instruction, and ongoing evaluation. SEL can help address various forms of inequity and empower young people and adults to co-create thriving schools and contribute to safe, healthy, and just communities."

In order to meet these needs, we are committed to raising awareness and fostering the development of strong SEL skills in our students in the five core SEL competencies, as identified by CASEL.

These five competencies include:

Self-Awareness (Understanding one's emotions, personal goals, and values; assessing one's strengths and weaknesses)

Self-Management (Skills in regulating emotions and behaviors, managing stress, and persevering through challenges)

Social Awareness (Ability to understand the perspectives of others, demonstrate empathy, and understand social norms)

Relationship Skills (Ability to communicate clearly, engage in active listening, cooperate with others, resolve conflicts, and resist negative social pressure)

Responsible Decision-Making (Ability to understand the consequences of actions, and make constructive choices taking the health and well-being of self and others into consideration)

Please see this link for additional information about Social-Emotional Learning provided by the New York State Education Department.

Below are posters provided by New York state to raise awareness of the five social-emotional learning competencies that are a major focus in school districts. These posters are displayed in all R-H school buildings.