Parent Tips
Every child should have a "Take Home" folder which they bring papers to and from school. This folder will come home everyday.


Parents please take time to look at your child's take home folder and review classroom papers coming home.


Please remove all corrected school work and notices and keep at home.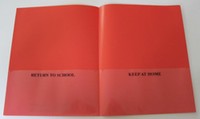 Related Links
Homework: A Guide for Parents

Homework has been around as long as public schools have, and over the years considerable research has been conducted regarding the efficacy of homework practices. While the results are not uniform, most experts on the topic have drawn some common conclusions.

Homework Tips for Parents

Homework can have many benefits for young children. It can improve remembering and understanding of schoolwork. Homework can help students develop study skills that will be of value even after they leave school. It can teach them that learning takes place anywhere, not just in the classroom. Homework can benefit children in more general ways as well. It can foster positive character traits such as independence and responsibility. Homework can teach children how to manage time.

Being an Efficient Homework Helper

Working successfully with our children on schoolwork requires respect, and respect begins with understanding. If a child struggles with and/or resists homework, ask yourself, "why?" As you discover the reasons, share them with your child so he or she better understands the issues. Doing so takes the mystery out of struggles or frustrations. Pediatrician Mel Levine calls this "demystification," which he describes as eliminating mystery by explaining the child's strengths and weaknesses and guiding him to develop more accurate personal insight.

Test Anxiety

We all have children that get nervous about testing. This is a recommended article to read.