My Home Page
Welcome to Vollmer

and to "Camp Pixley"

Yes, I love camping and I have a bit of a camping theme going in our classroom!

Check out these things on our website:

Monthly Classroom Newsletters - what we learned this month, upcoming events for next month, important reminders
School Calendar Dates - important events taking place at Vollmer, field trips
Websites - Useful websites for practice or more information on our 4th grade topics, internet safety tips


Also, please see our Weekly Reflection (sent home every Friday) for your child's description of what s/he learned that week. Check the students' Agendas for nightly homework assignments.
Mrs. Pixley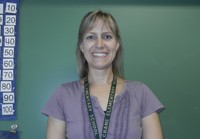 About Mrs. Pixley:

Mrs. Pixley worked at Crane School from 1991-2017. In 2017 she started teaching at Vollmer! She has taught many grades over the years--K, 2, 3, 4, 5--but not exactly in that order. She loves to read and to sing. She especially loves working with kids, and helping them reach their full potential.