Return to Headlines
Senior High School is Named PLTW Distinguished School
Rush-Henrietta Senior High School has been recognized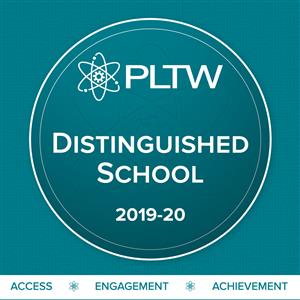 as a Project Lead The Way Distinguished School for the 2019-2020 school year!

This award celebrates outstanding implementation of the PLTW Biomedical Sciences and Engineering Programs in grades 9-12. Rush-Henrietta is one of only 143 high schools in the nation - and one of only six in New York state - to receive this honor. PLTW is a nonprofit organization that serves millions of students and teachers in more than 12,200 schools across the U.S.

The PLTW Distinguished School recognition honors schools committed to increasing student access, engagement, and achievement in their PLTW programs. To be eligible for the designation, schools must meet the following criteria:
Offer and have students enrolled in at least three PLTW courses.

Have 25 percent of students or more participate in PLTW courses, or of those participating in PLTW, at least 33 percent taking two or more PLTW courses.

Have at least 95 percent of students take the End-of-Course assessments.

Have strategies and procedures in place that support reasonably proportional representation with regard to race, ethnicity, poverty, and gender.
Through PLTW programs, students develop STEM knowledge as well as in-demand, transferable skills that they may use in school and for the rest of their lives, on any career path. Rush-Henrietta offers courses in the Biomedical Science and Pre-Engineering sequences. Students who successfully meet the final grade and End-of-Course assessment criteria are eligible to receive college credit for these courses at participating colleges across the U.S. Rush-Henrietta has a partnership with RIT that allows all of our PLTW Pre-Engineering sequence students who meet the criteria to receive RIT credit for free.
"This recognition is a testament to the passion, hard work, dedication, and innovation our teachers have contributed to our PLTW courses over the years," says Daniel Zdanowski, director of science, technology, health, and family and consumer science for Rush-Henrietta.

Assistant Superintendent for Curriculum and Instruction Dina Wilson adds, "The PLTW representatives were very impressed with how well we implement the program - including curriculum development, professional development, enrollment of a diverse student population, and maintaining high achievement results. With outstanding leadership from Dan Zdanowski, our teachers and students are to be commended for their hard work and dedication to this program."
Congratulations to everyone involved!