Return to Headlines
Board of Education Names Lawrence "Bo" Wright as Next Superintendent
Learn more about Bo Wright in this story that was posted after he was selected to head the Rush-Henrietta Central School District.
The Rush-Henrietta Central School District Board of Education is pleased to announce that Mr. Lawrence "Bo" Wright will become the next superintendent of the Rush-Henrietta Central School District effective July 1.

"We are very pleased to welcome Bo Wright to the Rush-Henrietta family," says Robert L. Cook, president of the Rush-Henrietta Board of Education. "The process to choose a new superintendent has been long and discerning. The board spent more than a week reviewing feedback from our community regarding the finalists, and Bo stood out as the candidate who will help sustain the success our district has experienced in recent years and lead us to greater heights. We have no doubt that Bo will serve our entire school community with distinction, integrity, and leadership. We wish to thank all the faculty, staff, administrators, parents, students, and community members whose efforts contributed to this decision."

Wright comes to Rush-Henrietta from the Rochester City School District, where he is the deputy superintendent of administration. "I am excited and honored to be selected as Rush-Henrietta's next superintendent," he says. "I look forward to working collaboratively with the Board of Education and our entire school community to continue moving in the direction of excellence."
Before joining the city schools, Wright served as superintendent of the Solvay Union Free School District in Solvay, N.Y., from 2013 to 2017. He also served as assistant superintendent of curriculum and instruction for the Geneva City School District in Geneva, N.Y., from 2010 to 2013. His additional experience includes serving as principal of Public School 396 in Bronx, N.Y., from 2005 to 2010; as principal intern at the NYC Leadership Academy, Public School 121, in Bronx, N.Y., from 2004 to 2005; and as a sixth grade teacher at Lyons Elementary School in Lyons, N.Y., from 1999 to 2004.

The Rush-Henrietta Central School District Board of Education is expected to make Wright's appointment official at an upcoming meeting upon finalization of a contract.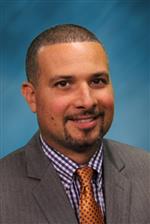 Mr. Bo Wright