Return to Headlines
In Pandemic, R-H Garners National Recognition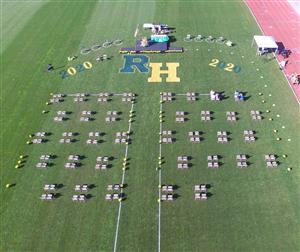 Last spring, while dealing with so much uncertainty in the earliest days of the pandemic, Rush-Henrietta was tasked with creating a safe graduation ceremony that could accommodate the Class of 2020 and their families, while staying within strict state guidelines that limited attendance. It was a daunting challenge for all involved.
Unable to use the traditional indoor graduation venue at Rochester Institute of Technology, the district turned its attention to the field at Elmer Gordon Stadium behind the Senior High School. For three months, staff members meticulously planned to hold 12 separate ceremonies. The stadium was arranged with seating on the field in groups of four to allow families to sit with their graduate, as yellow flowers helped define the area. The stage was placed on the 20-yard line to symbolically emphasize the Class of 2020's successful finish, the scoreboard reflected "20-20," and "R-H" and "2020" were artfully painted on the field, providing a beautiful emphasis for all to enjoy. All of that planning and preparation resulted in a dozen unforgettable ceremonies.
The transformation from athletic field to commencement venue was received beautifully by the Class of 2020, their families, and the community. Now, we are thrilled to announce those efforts have been recognized nationally by Pioneer Athletics. Rush-Henrietta has one of only two fields in the entire nation being recognized with the organization's Fields of Excellence Award. The district also was given a Pioneer Athletics Field of Excellence Scholarship, which will be awarded to an R-H student this year.
"Pioneer understands that excellence in athletic field maintenance goes unrecognized and often unappreciated," Pioneer Athletics says. "The Fields of Excellence Award Program honors outstanding athletic fields and the hardworking field crews who diligently maintain them. When faced with the unknown, you adapted, you delivered, and you exemplified excellence and dedication to your organization and communities in 2020."
Dr. Tim Shafer, principal of Rush-Henrietta Senior High School, is pleased to hear the good news. "Derek Brown, our grounds supervisor, and his team did a tremendous job of creating a field for graduation that our community could be proud of last year," Shafer says. "We are happy these efforts have been recognized."
During the past year, Derek Brown, Sean Cole, Ryan Dell, James Ferrell, Billy Ladd, Kent Porter, David McGinnis, and Caleb Slattery have played key roles as members of the district's award-winning grounds crew. Incredibly, Porter and Ladd were on the crew that also received national recognition two decades ago. In 2001, Rush-Henrietta was honored as the best in the nation when it earned High School Field of the Year honors.
Ken Nelson, Rush-Henrietta's director of school facilities, was elated when the district received news of its most recent award, and he is proud of those who made it possible. "I am so blessed to have an extremely talented grounds team that is willing to take on any challenge put before them," he says. "They are always willing to go the extra mile. This time, for the R-H Class of 2020 and their families, they went to the moon and back!" Lee Heberger, custodian at the Senior High School, and his crew also made significant contributions in preparation for last year's ceremonies.
The district is in the early stages now of planning for the Class of 2021's graduation in June. Details will be announced as soon as they are confirmed.
While recognition for a job well done is always appreciated, Brown says the indelible memories of helping to make graduation for the Rush-Henrietta Class of 2020 possible are important, too.
"My biggest takeaway from that experience was that we were able to prepare the field in a very unique way, and it provided a chance for every graduating student to walk the field whether they were a member of a sports team or not," says Brown, a 2008 Rush-Henrietta graduate. "Being a part of that graduation celebration - and making it possible under challenging circumstances - is something that my guys and myself will remember forever."
Watch a video clip of the field being prepped last year here: