Return to Headlines
Rush-Henrietta Mourns the Loss of 7th-Grader Liam Ronan
Rush-Henrietta mourns the death of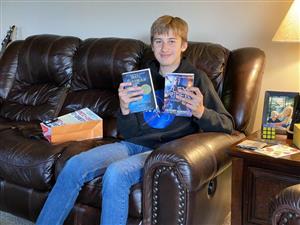 Liam Ronan, a seventh-grader at Burger Junior High School. Sadly, he was struck by a vehicle while riding his bicycle May 19.
Please see below for information on ways you may support the family.
Liam recently celebrated his 13th birthday with his family. He opened gifts that many newly minted teenage boys would love - books, a fishing rod, and a Nerf gun, among them. He had many passions, including playing volleyball and the piano and trombone. Liam previously attended Leary and Vollmer elementary schools.
His teachers describe him as sweet, smart, polite, well-liked, and a great conversationalist. "Liam was so smart, he could have taught social studies," says teacher, Jenaye Tyno. Karyn Stockmaster, a math teacher, shared similar thoughts, saying, "Liam was one of the brightest students I have ever taught. He always finished early and was eager to help his classmates."
Stacy Bement, a science teacher, says Liam possessed a brilliant mind, a thirst for knowledge, and a special gift of being able to share it. "I'll never forget the first time I met Liam," she says. "He had the biggest smile on his face and told me he loved science!"
It is difficult to imagine the degree of grief that those who love Liam are experiencing now. On behalf of everyone associated with the Rush-Henrietta Central School District, we extend our deepest sympathies. We stand with the Ronan family - including Liam's sister, Molly, who is preparing to graduate from Rush-Henrietta Senior High School - during this heartbreak.
We know it will be challenging for Liam's classmates and friends to deal with this, and we are ready to support them. This isn't news that anyone is prepared to hear. Our Trauma, Illness, and Grief team is prepared to meet the counseling needs of students through virtual means. This is true for staff members, as well. We know many of them will be impacted.
Should your child need to speak with someone about this, or need help dealing with feelings, please reach out to any member of our mental health staff. You can find a complete listing by visiting this link. We also want to share these additional resources with you and your family:
Grieving: What's Normal and When to Worry
Twelve Ways to Help a Grieving Child and Helpful Parent Guidelines
Please keep the Ronan family close to your heart in the days ahead.
Support for the Ronan family
The family of Liam Ronan would like to thank the Rush-Henrietta community for the outpouring of love and support during this difficult time. Many of you have asked how you may help the family, and they have given permission to share the following information. Please continue to keep them in your thoughts and prayers.
Arrangements
There will be a private service on Sunday, May 24 at 1:00 at Miller Funeral and Cremation Services in Henrietta. Because of the restrictions in place due to COVID-19, a live stream of the service will also be available via the funeral home's website: https://millerfuneralandcremationservices.com/

If you wish to have flowers delivered to the service, please have them delivered to Miller's on Saturday, May 23. Liam's favorite color was green.

There will be no reception after the service.

We have also established donations in Liam's memory at Lollypop Farm. Liam LOVED cats and this is where the family adopted their cat Jonesy. Please follow these directions:

Under Tribute Type, Select "In Memory of"

For Honor/Memorial Name type: Liam Ronan

Under Gift Information select the amount you wish to donate

Under Recipient Name type: Thomas and Kimberly Ronan

You may leave a personal message if you wish

You DO NOT need to fill in any additional fields as Lollypop Farm has the family's contact information
Other Ways to Help
Meal Train: https://mealtrain.com/3gdg2l

Currently the dates to provide meals is full

If you signed up to bring a meal, reminder to bring it to the neighbor's address that is listed on the meal train site

You may also purchase gift cards from this site for future use

Gift Cards they prefer are: Grubhub, Panera Bread and Target
Green Pinwheels

Their RH neighborhood is putting green pinwheels in their front yard to honor Liam

To show our solidarity, please consider placing one in your front yard as well
Cards/Condolences

Cards/notes of condolences can be sent in care of the following address:
71 Caitlin Trail
West Henrietta, NY 14586
Out of respect for the family's privacy, they have requested that all well-wishes, donations, and tributes be delivered to the above address. Unfortunately, we must ask that there be no exceptions at this time.

If you wish to include a gift with your card, here is a list of places they enjoy/frequent:

Stores: Target, Lowes

Restaurants: JB Quimby's, Lovin' Cup, Eddie O'Briens, Moe's, Tony Pepperoni

Coffee: Dunkin, Tim Hortons, Bubble Tea