Return to Headlines
Electronics Recycling Event a Success!
On Saturday, April 6, the Rush-Henrietta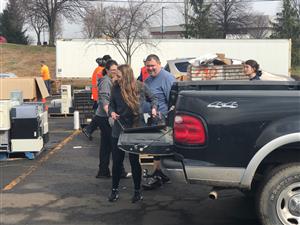 Senior High School's Natural Helpers hosted an electronics recycling event along with Sunnking and members of the offices of Senator Patrick Gallivan, Assemblyman Brian Kolb, and Assemblywoman Marjorie Byrnes. There was a steady stream of cars throughout the four-hour event, with an estimate of well over 2000 cars passing through. Between 12 and 15 tractor trailers were filled with electronics to be recycled!
Even with the high traffic volume, cars were averaging 20 minutes or less to get through. This was thanks to the amazing group of parking staff from the Senior High School, directed by Patti Marshall, who kept traffic moving smoothly and safely within the Transportation Center lot. In addition, the Monroe County Sheriff's Office had two deputies assisting with traffic in the roadways.
Natural Helpers Officer Jessica Ferra designed the flier that was on Facebook regarding the event, and also did an exceptional job answering countless questions from people prior to the event.
District Safety and Security Coordinator Mike Paladino assisted with facilities and set up before and during the event. Ken Nelson, Maria Hamilton, and Lee Heberger from R-H Department of Facilities assisted in securing the site for use that day. Many thanks go to the Town of Henrietta for lending us the parking cones used throughout the Transportation Center area to help guide traffic. In addition, they helped with publicity and made signs for use on the road the day of the event. There was also an ambulance onsite as a precaution in case of injuries.
More than 75 student volunteers assisted throughout the event, joined by 25 staff from Sunnking, a few parent volunteers, and some R-H staff members, including Burger Counselor Mike Neary, and Natural Helper Advisers Jessica Kinsman (SHS counselor) and Aaron Fraver (SHS social studies teacher).
The majority of the student volunteers were part of the Natural Helpers program, with additional help provided by students with National Honor Society, Interact Club, and Student Council.
The event organizing committee included:
Cindy Jessop, Sunnking

Annie Chwiecko and Phyllis Wickerham, Senator Patrick Gallivan's Office

Trisha Turner, Assemblyman Brian Kolb's Office

Stephanie Schroeder, Assemblywoman Marjorie Byrnes' Office

Mike Elphick, R-H Natural Helpers Adviser
For more pictures from the event, visit our district Facebook page: https://www.facebook.com/rhschools/