Return to Headlines
R-H Honored for Instructional Technology Efforts
District Administration magazine has chosen the Rush-Henrietta Central School District as one of its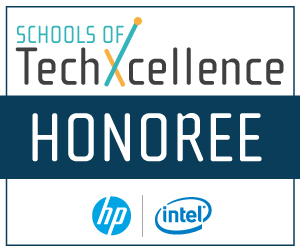 honorees in the 2018 Schools of TechXcellence program. This competitive national program recognizes school districts for outstanding technology initiatives.
Rush-Henrietta is being recognized for the use of capstone projects in measuring student learning related to using digital tools. The projects are based on the International Society for Technology in Education (ISTE) standards and have been established for third, sixth and ninth grades. For their projects, students select a topic and then complete a series of tasks related to it. These tasks take several weeks and include both online and print research. Students use a variety of digital tools to create a presentation at the end of their projects.
The Rush-Henrietta capstone projects began in the 2017-18 school year with third graders, and showed that 79 percent of students rated proficient on skills necessary for meeting the ISTE standards. These include citing sources, communicating clearly and concisely, providing details about the main idea of a text, organizing information, evaluating sources, and leveraging digital tools. The results were used by library specialists and technology coaches to work with teachers on how to reinforce and improve key skills among students.
"The capstones are designed to be rigorous assessments of information and technology skills that cannot be taught and mastered in one year," says Brad Malone, Rush-Henrietta's director of information and communication technology.
Locally, Rush-Henrietta is unique in its focused approach of measuring progress toward the ISTE standards district-wide in order to ensure all students have mastered the technology and information literacy skills necessary to be college and career ready. With the district's move to 1:1 devices for students, effective use of technology for meeting learning standards is a key goal. Not only did nearly 80 percent of students achieve proficiency on the ISTE standards, but they also made a notable improvement on the latest ELA state standard test results, showing that the skills being taught have a positive impact on overall learning.
Created by District Administration magazine, and sponsored by HP and Intel, TechXcellence recognizes schools that have implemented innovative technology programs that contribute meaningfully to student or operational success. The December 2018 honorees reflect programs that demonstrate effective and replicable success.