Return to Headlines
New Breakfast and Lunch Menu App Available
The Rush-Henrietta Central School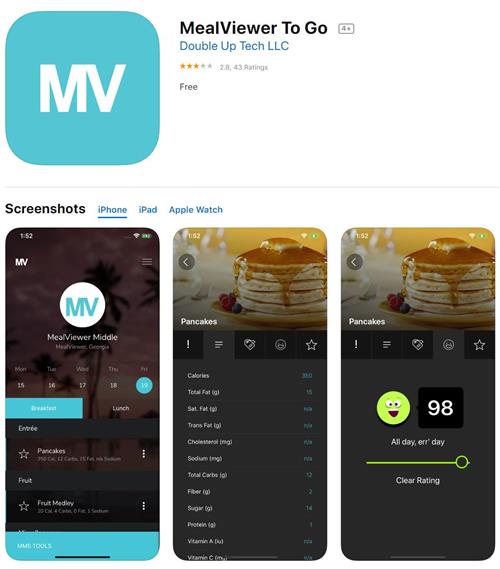 District is pleased to announce a new menu system that offers a different way for students and families to view breakfast and lunch menus and allows them to make informed decisions about their daily food choices. Rush-Henrietta is the first school district in Monroe County to offer this enhanced menu system, MealViewer.
MealViewer provides convenient, around-the-clock access to Rush-Henrietta's menus. Simply visit the district website or download the MealViewer to Go mobile app. Users create a profile for each student by selecting a particular school and noting any food allergies. Menus allow users to detect potential allergens and know each time a particular allergen appears on the menu.
MealViewer also allows for the tracking of important nutritional information, giving students the opportunity to see data for each individual item served in our cafeterias. In addition, students can note their favorite food items and rate meals to ensure the Rush-Henrietta Food Services Department receives their feedback. Families also can print a customized menu from the online system, showing the food items they prefer.
"Partnering with MealViewer gives us the opportunity to provide important menu information to our families in an easy-to-use format," says Geraldo Torres, Rush-Henrietta's director of food services. "We are positive that students and families alike will be impressed by the new ways we can share breakfast and lunch information. This is one more way that Rush-Henrietta is working to empower our students and their families."
Breakfast and lunch menus for each Rush-Henrietta school are available in this new format. Visit www.rhnet.org/menus to see more. You also may download the free MealViewer to Go app in the App Store or Google Play Store. Whether online or through the app, you may create a profile on MealViewer by selecting your child's school.
We hope you find the MealViewer system to be helpful in navigating school menus. If you have any questions, please contact the food services department at 359-5388.