Mrs. Bennett's Home Page
Welcome to Mrs. Bennett's Webpage

Welcome to 1st grade

2018-2019

Check out my Symbaloo for some useful websites that the students can use over the summer.

**Many of the websites are repeated below**

Attention 1st grade parents: During the school year I send home a nightly email with important information about homework and school news. If you would like to receive this email and you don't already, please email me at lbennett@rhnet.org

If you are interested in volunteering in the classroom please use the following link:

Last modified 10/17/2018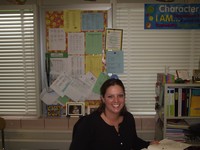 Related Links
Parent Guide to Student Learning

Time For Kids

TIME For Kids is a weekly classroom news magazine that motivates kids to read!

Math

AAA Math features a comprehensive set of interactive arithmetic lessons.

Fun Brain

A variety of games for the students to enjoy!

Cool Math

An amusement park of math designed for fun!